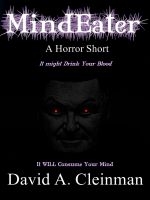 Free for 6 more days. My new short story, which some of you helped me tweak. Please grab a copy, or two, or 3!... fb.me/tRf3IhjU

— David A. Cleinman (@David_Cleinman) January 19, 2012
For vampires, blood is their life. They feed on it and it sustains them. What happens when it is no longer enough for some? They consume minds. The victim dies a horrible death. The MindEater gains all of their memories and life energy. Could one MindEater destroy the human world?
Prices may change at any time. Before downloading, confirm that this book is still free.